GH&C's Marc D. Policastro Assists Chelsea Senior Living in Opening a New Facility In Marlboro
October 2015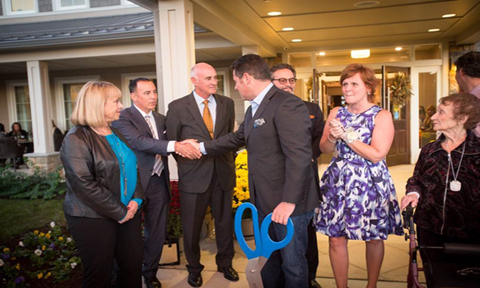 Pictured: Marc Policastro shaking hands with Jonathan Hornik, Mayor of Marlboro, at the ribbon cutting ceremony.

Marc D. Policastro, shareholder in the Real Estate, Redevelopment & Planned Real Estate Development Department and chair of the Site Remediation Department, was lead attorney in helping a major assisted living company open a new location, The Solana, in Marlboro, NJ. This highly contested case has gone through a number of hearings and special meetings since July of 2012.

The Solana is Chelsea Senior Living's newest New Jersey location. Chelsea Senior Living has locations in New York, New Jersey and Pennsylvania. The company's mission is to provide a comfortable, safe and secure home for those who need help with the activities of daily living in a caring atmosphere of respect and dignity.

Mr. Policastro is a transactional, business attorney, who focuses his practice in development, redevelopment, environmental compliance cases, corporate transactional matters, land use, zoning and business counseling. He has represented numerous national developers, manufacturers, cogeneration facilities and utilities, automobile dealerships, lenders, borrowers and municipal boards in myriad land use contexts, including commercial and residential development and due diligence matters. He also focuses on complex remediation cases and general environmental compliance counseling. He has significant experience in ISRA, Spill Act, LSRP, UST and related hazardous substance regulatory matters and redevelopment of contaminated sites. Mr. Policastro attended Christian Brothers Academy, University of Richmond and Seton Hall Law School.